Mission Statement
The mission of the District Court of the Virgin Islands is to be a leader in serving the people of our community by providing impartial, cost-effective, timely and accessible administration of justice to all; and by treating all persons with integrity, fairness and respect.
____________________________________________________________________________
COVID-19 OUTBREAK
The District Court of the Virgin Islands remains open and operational during the COVID-19 pandemic.
NOTICE
The District Court operations "soft reopening" to the public was initiated on February 17, 2021 and set to expire on April 30, 2021, shall be extended and continued in full force and effect through May 31, 2021. The "soft reopening" of Court operations consists of grand jury proceedings, certain in-person proceedings, Central Violations Bureau proceedings and Clerk's Office counter services. The "soft reopening" is also extended to include the incremental resumption of civil and criminal jury trials before any judge or magistrate judge in either Division of the Court, as determined and scheduled by the presiding judge. The Court will continue to monitor the COVID-19 conditions in the Virgin Islands and will issue General Orders accordingly. As in the past, please stay tuned for further General Orders of the Court.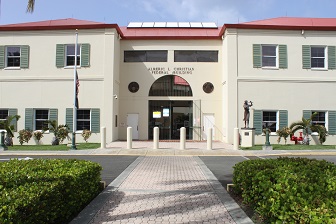 Court Locations
District Court of the Virgin Islands
Ron de Lugo Federal Building
5500 Veterans Drive, Rm 310
St. Thomas, VI 00802
8:00AM - 5:00PM M-F
District Court of the Virgin Islands
Almeric L. Christian Federal Building
3013 Estate Golden Rock, Suite 219
St. Croix, VI 00820
(340) 718-1130