Mission Statement
The mission of the District Court of the Virgin Islands is to be a leader in serving the people of our community by providing impartial, cost-effective, timely and accessible administration of justice to all; and by treating all persons with integrity, fairness and respect.
____________________________________________________________________________
COVID-19 OUTBREAK
The District Court of the Virgin Islands remains open and operational during the COVID-19 pandemic.
NOTICE
The District Court of the Virgin Islands will continue to remain open for official business in both divisions of the Court to include the resumption of grand jury proceedings, Central Violations Bureau proceedings, and in-person Naturalization Ceremonies as approved by the presiding judicial officer. The operations of the District Court shall also include the resumption of civil and criminal jury trials before any district judge or magistrate judge in either division of the Court, as determined and scheduled by the presiding judge. Clerk's Office in-person counter services will continue, except that payments in cash will not be accepted. Payments may be made by personal check, credit and debit cards, money order, or certified bank check, except that criminal debts cannot be paid by personal check or credit and debit cards. This Order shall remain in effect for the period of May 1, 2022, through May 31, 2022, unless it, or any portion thereof, is modified, terminated earlier, or extended by further Order of the Court.
DIVISION OF ST. CROIX
General Operational Questions: 340-712-7115
DIVISION OF ST. THOMAS/ST. JOHN
General Operational Questions: 340-775-8005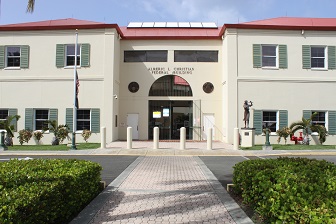 Court Locations
District Court of the Virgin Islands
Ron de Lugo Federal Building
5500 Veterans Drive, Rm 310
St. Thomas, VI 00802
8:00AM - 5:00PM M-F
District Court of the Virgin Islands
Almeric L. Christian Federal Building
3013 Estate Golden Rock, Suite 219
St. Croix, VI 00820
(340) 718-1130