Mission Statement
The mission of the District Court of the Virgin Islands is to be a leader in serving the people of our community by providing impartial, cost-effective, timely and accessible administration of justice to all; and by treating all persons with integrity, fairness and respect.
____________________________________________________________________________
COVID-19 OUTBREAK
The District Court of the Virgin Islands remains open and operational during the COVID-19 pandemic.
NOTICE FROM THE CHIEF JUDGE
By General Order entered on February 12, 2021, and effective February 17, 2021 through March 31, 2021, the District Court implemented a "soft reopening" of Court operations, consisting of the resumption of grand jury proceedings, certain in-person Court proceedings, Central Violations Bureau proceedings, and Clerk's Office counter services. The Court will continue to monitor the COVID-19 conditions in the Virgin Islands and will issue General Orders accordingly. For your information and advance planning, please be advised that if the circumstances warrant, the Court—by General Order—will extend the reopening of Court operations to include conducting jury trials effective April 1, 2021. As in the past, please stay tuned for further General Orders of the Court.
Wilma A. Lewis, Chief Judge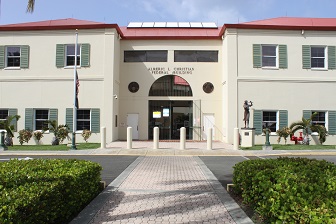 Court Locations
District Court of the Virgin Islands
Ron de Lugo Federal Building
5500 Veterans Drive, Rm 310
St. Thomas, VI 00802
8:00AM - 5:00PM M-F
District Court of the Virgin Islands
Almeric L. Christian Federal Building
3013 Estate Golden Rock, Suite 219
St. Croix, VI 00820
(340) 718-1130